Loading ...


As visual artists, the demo reel is our sole calling card and still (after all these years) seemingly our only means of making an impression on those who might hire our services.  A few of us have been at it so long that we're beginning to craft a new form of narrative out of our stacks of demo reel footage that weave past projects into something that's hard to categorize – part experimental video, part music vid.  Younger artists just getting into the game also have inventive ways of showing off their early work to try to elevate themselves to the top of the demo reel pile at area studios.
Very happy to say, after the wildly successful demo reel event at Disjecta 2 years ago (I know, time flies!), it's high time we wind it up again.  Watch some reels…   talk some shop…   inspiration!
Motion graphic artists and designers.  Animators.  3D artists.  VFX artists.  All ya'll.  I'm calling you out.  The countdown is on to submit your reel.  Hit us with your latest and greatest.
Submission guidelines:   Please render your reel as an h264 .mp4 file, at 1920×1080, using the Vimeo preset in most editing apps – more details here.  We will be presenting this in Keynote so please conform to these specs.  Deliver via Vimeo, Dropbox, GDrive, FTP or other download link of some kind using this form.  Please submit your reel before April 11th.
From your submissions we'll program the night's playlist, pack the house, and have a panel of industry experts on hand to offer up feedback as each reel screens.  We'll have prizes for each category winner (motion graphics, 3D, VFX), as well as a vote for audience favorite.  Prizes include:
Motion graphics:  Trapcode Tao         3d:  SideFX Houdini           VFX:  Blackmagic Fusion
All category winners also receive a 3 month subscription to Lynda.com
Overall Winner receives the entire Trapcode Suite ($1000 value) from Red Giant + 1 year of Lynda.com training.  Score!
Also on the docket is the invitational collaborative animation screening of the Alphabest project, showcasing some of the best animation talent in the area.  A potent double bill as everyone steps out for Design Week – this will be amazing and clearly a can't miss night.
Tickets are $10, available here
Spread the word!
Schedule for the night – Alphabest screening, Reel Review, Alphabest screening encore.
Monday, April 18th, 6:30-10:00pm
Artist Repertory Theatre
1515 SW Morrison
Thanks to sponsors:
Scopic / 3DV / 52 Ltd / Red Giant Software / Blackmagic Design / SideFX / Artist Repertory Theatre / OMSI / Neat Video
Jamal Qutub of AEPDX on the poster design.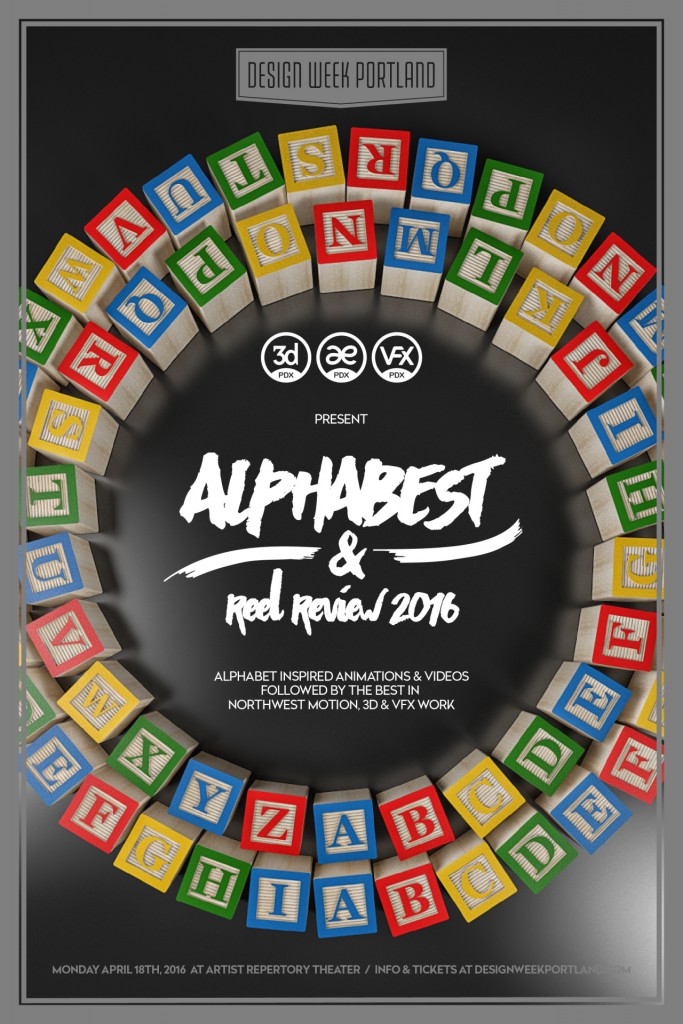 I think it's a safe bet that the Microsoft HoloLens is going to change our view on computing.  Join us this winter for an unprecedented Augmented/Mixed Reality class with Clackamas Community College at the Oregon Story Board, with support from Intel, Sprocketship, and Object Theory.  Probably goes without saying:  this is the start of something special.
Click here to check out one of the many articles and press releases on what is happening.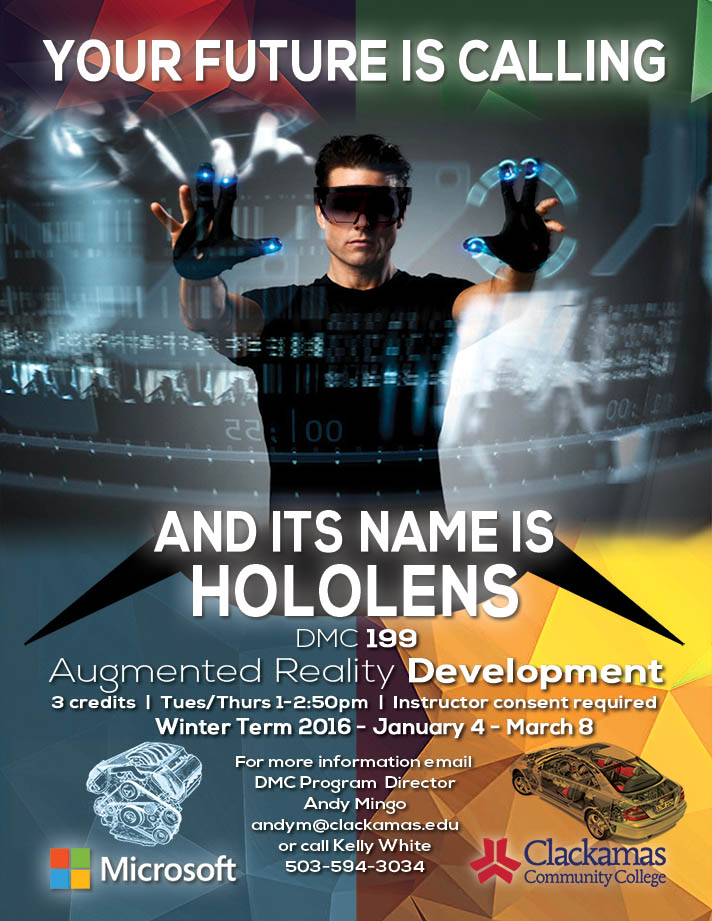 Like the graphic says, contact Andy Mingo at andym@clackamas.edu or call Kelly White at 503-594-3034 to express your interest in this class.
PS – if you're a C# guru, Unity, or CG modeler, definitely let that be known when signing up.
PPS – check out the HoloLens meetup group here.
UPDATE:  the class is live and if you've got the skills, express interest here.